A few weeks ago I went to Wotton Underwood near Aylesbury, Bucks to interview Jon Silvera who founded the company, Fuze/Binary Distribution. I had been in contact with Jon previously, mainly through learning about his Fuze computing platform during my time volunteering at The National Museum of Computing. The machine was reminiscent of the BBC Micro in some ways, with its full size keyboard and angular design, along with the way it enabled users to use a version of BASIC on it (FUZE BASIC), even though it was driven by a Raspberry Pi. Jon and I had got talking about the company, and 1980s computing so I interviewed him for my book about the BBC Micro as I was interested in why he set up FUZE, and how it connected to his own history with the Micro.
During that interview I also learnt about how Jon used to type in magazine listings for programs at the time, as many people did in the 1980s. However, Jon also wrote a listing for the ZX Spectrum that was published in the April 1985 issue of ZX Computing magazine. The game was a platform game titled "Platform Jack". The magazine is archived on the Internet Archive here, and so I went about typing it in, using a ZX Spectrum emulator (zxsp for the Mac), the result of which is below.

Platform Jack, ZX Computing Listing by Jon Silvera
I contacted Jon about doing a more comprehensive oral history about not only writing the listing, but his first encounters with microcomputing in the 1980s and his career to date. What unraveled during that interview, was Jon's love of arcade games, especially Defender, that he would spend hours playing at the arcades in Minehead where he lived during that time.
Although his days as the 'arcade kid' saw him both get into trouble as well as gain respect of other arcade attendees, it was during Jon's time at school that he struck up a friendship with another boy, Colin, whose parents had bought a BBC Micro. Jon and Colin would spent a lot of their spare time typing in magazine listings and learning how to program on the machine in BASIC, as well as bit of 6502, in order to make some of their own games alongside the ones they typed in and played. It was this experience that Jon marks as a turning point in his life, when he realized he could do something with that machine and his love of games.
After leaving school at 16, Jon did various jobs, including teaching programming workshops at the Butlin's holiday camp in Minehead (see picture above), before moving to London in the late 1980s to gain further employment. It was in London that Jon started working at Gultronics on London's bustling Tottenham court Road that once was a hive of technology and computer shops.
It was from Gultronics that Jon set up many businesses, including his own shops called PC Deals, then ProCity PLC, and the 486 Centre (see leaflet below).
These then led Jon into a career in software buying and selling through various other partnerships, including deals for eJay amongst others.
Jon's knowledge of software publishing and distribution eventually saw him set up Binary Distribution, and in 2011 after a nostalgic weekend showing his children his BBC Micro that he had bought down from the loft, the idea for the FUZE began. After a few prototypes (see image below), the FUZE went on to be a manufactured product, displayed at BETT and gaining the attention of companies such as Raspberry Pi, whose computer was powering the machine.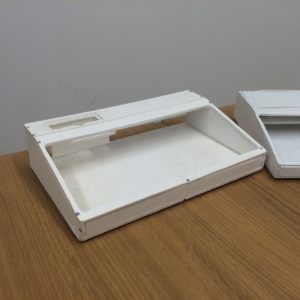 The integration of FUZE BASIC become fundamental to its design and something that Jon and his colleagues at FUZE continue to develop today. What started out being a history of microcomputers and magazine listings exposed additional histories of growing up in Minehead playing arcades, of London's booming technology centre on Tottenham Court Road in the 1990s and beyond, and how some of those businesses came and went over the years in response to the various demands placed on them. The interview also showed some of how teaching programming practices can be seen to have come full circle, albeit on different devices for different means. Whereas in the 1980s Jon was teaching people how to use ZX Spectrums at Butlins, this year has seen him and his team travel down to the Eden Project in Cornwall to deliver computing workshops with his own FUZE computing platform.
A full transcript of the oral history will be on this website in the coming year.