Last week I interviewed Colin Bodley about his experiences of computing in the late 1970s and into the 1980s and beyond. Colin is a friend of Jon Silvera, who I interviewed in June, and it was great to be able to join up part of that history from a different perspective.
Colin grew up in Minehead, Somerset, where he met Jon in middle school aged around 9 years old. Much like Jon, Colin enjoyed playing in the arcades, where he remembered playing games such as Space Invaders and Defender. Although his first experience of games predates this, when his family got a Binatone TV-Game system.
Yet it was the RML380Z that was Colin's first experience of a programmable computer. He encountered the machine during an astronomy course that took place over several days. Colin remembers how subsequently the machine used to tour around schools in the Somerset area. The mum of one of Colin's friends was a math's teacher at his school, and he was then able to get access to the machine via his friend after school, and finally have some time learning to programme on it.
Later on in 1981 the physics department bought a ZX81 at his school. Colin's love of the sciences meant that he was then able to take the machine home to borrow it. But instead of doing school related work on it, Colin used it to type in magazine listings, including the City Bomb listing in the first issue of Computer and Video Games magazine (see screenshot and video below).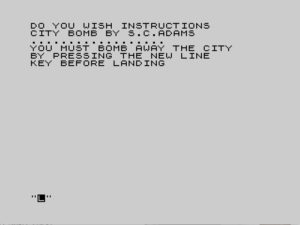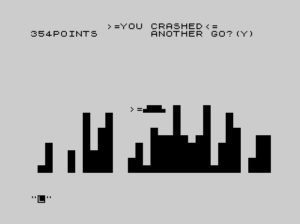 City Bomb – ZX81 listing from Alison Gazzard on Vimeo.
The above screenshots and video are of a version of City Bomb that has been typed in using the zxsp emulator. The listing is from the November 1981 issue of Computer and Video Games magazine, with a correction found in the letters page of the December 1981 issue of CVG.
Colin bought the magazines before even purchasing a computer, or using one, and remembers buying Computer and Video Games magazine.
Eventually Colin went on to buy a BBC Micro; bought in part by working at both his parents and his uncle's B&Bs in Minehead. He had to wait until the early summer of 1982 for the machine to arrive, just in time for the end of his O Level exams. Whilst owning the Micro, Colin would also buy Acorn User magazine and type in various listings to create his own games. This was often done with Jon as well, with one of them reading out the listing whilst the other one typed. One of the games Colin remembered typing in was Trek III; a game played not only by himself, but also by his father.
Prior to the interview, both Colin and myself typed in the Trek III listing from the November 1982 issue of Acorn User magazine. Although it still has some bugs in places, some screenshots of the game running can be found below (a video will follow shortly).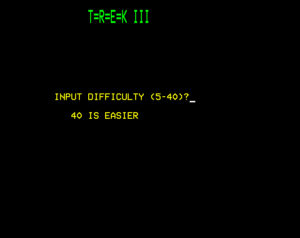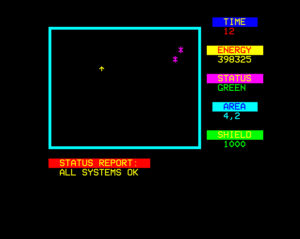 During his General Studies A-Level, Colin and a team of students from West Somerset school in Minehead were encouraged to submit a program to the IBM Somerset Cup in 1983. Colin took on the role of programming a Teletext editor, which enabled Teletext pages to be saved to cassette tape, along with a viewer so that the pages could be played back on a rolling demo. The school set up the system in the reception area so that people could see events on at the school, etc. The team ended up winning the competition, and an article was written in the local newspaper, the West Somerset Free Press, at the time (see image below).
Although the team members didn't get to keep the cup, Colin still had an IBM paperweight as an additional prize for winning the competition, a memento he still has today (see image below).
Either just before or whilst at university, Colin sold his BBC Micro in order to buy an Atari 520 as it was a more suitable machine for the Computer Science degree he would undertake at the University of York.
It was after doing this degree that Colin then went on to work for BPCC graphics in Derby, which was a printing company (the previous printing arm of Rolls-Royce) where he worked in the information service division. He was involved in data capture, and processing data for printing. This then turned into producing CD-ROMS for various airlines including British Airways and United. From here the company took on contracts for other companies such as British Gas. After breaking away from the company, Colin and some of the other employees set up Infomill, where 20 years later Colin still works today.
A full transcript of the oral history will be available on this site next year.